1. What is/are your favorite yarn/s to knit with? What fibers do you absolutely *not* like?

I prefer natural fibres; wool, alpaca, bamboo, mohair etc. I don't like synthetic fibers or cotton. I often knit socks and it is good to have some polyamide in sock yarn but pure acryl is not for me.

I'm not sure if I like variegated yarns. I normally knit fingering or laceweight yarns with US#0 needles in lace shawls I can use as big as US#7.

2. What do you use to store your needles/hooks in?

I store my dpns in plastic food container and my circulars are in a small album. Suprise me with better ideas.




3. How long have you been knitting & how did you learn? Would you consider your skill level to be beginner, intermediate or advanced?

I learned to knit when I was about seven years old (nearly 25 years ago). My mother taught me to knit and here in Finland knitting is part of school education (we made mittens and socks in elementary school).  My skills are somewhere between intermediate and advanced.

4. Do you have an Amazon or other online wish list?

Yes I have, you can find it


5. What's your favorite scent?

My favorite scent is fresh air, I don't like scented candles, lotions or soaps.

6. Do you have a sweet tooth? Favorite candy?

I have a sweet tooth, my favorite candies are dark chocolate and fruit jellies.

7. What other crafts or Do-It-Yourself things do you like to do? Do you spin?

I would like to learn felting and maybe spinning. I can crochet but I don't like it.

8. What kind of music do you like? Can your computer/stereo play MP3s? (if your buddy wants to make you a CD)

I don't what kind of music I like best, I don't like hard rock. My computer and stereo can play MP3s.

9. What's your favorite color(s)? Any colors you just can't stand?

I like greens, pale pink and brown. I don't like blue (you can find blue socks etc. in my blog but I have made them as a gift), black, metallic and red.

10. What is your family situation? Do you have any pets?

I am a spinster and live with my cat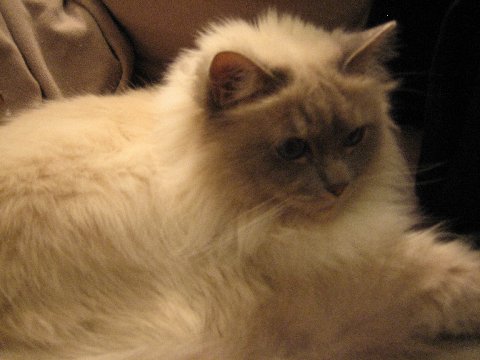 11. Do you wear scarves, hats, mittens or ponchos?

I wear scarves, shawls and ponchos. I adore beautiful mittens and hats.

12. What is/are your favorite item/s to knit?

I like knitting socks as you might notice.

13. What are you knitting right now?

I have one pair of socks and poncho on my needles right now.

14. Do you like to receive handmade gifts?

Yes I do.

15. Do you prefer straight or circular needles? Bamboo, aluminum, plastic?

I knit with circulars and dpns only. I like bamboo but my knitting is loose so I have to knit socks with steel dpns to obtain gauge.

16. Do you own a yarn winder and/or swift?

Yes, I have.

17. How old is your oldest UFO?

6 months (pullover)

18. What is your favorite holiday?

Christmas

19. Is there anything that you collect?

Dust, but please, don't send more.

20. Any books, yarns, needles or patterns out there you are dying to get your hands on? What knitting magazine subscriptions do you have?

Books are in a wish list, I like to try different fingeringweight sock yarns and sock patterns. I have subscripted Interweave Knits.

21. Are there any new techniques you'd like to learn?

I would like to learn spinning with spindle ( I don't have one) and felting. In knitting I would like to learn magic loop and knitting two socks on two circular needles.


22. Are you a sock knitter? What are your foot measurements?

Yes I am.
foot circumference 8.3" (21 cm)
ankle circumference 9.1"  (23 cm)
foot length 8.7" (22 cm)

23. When is your birthday?

16th March